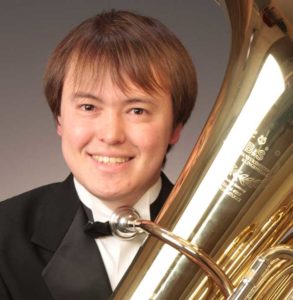 Mount Carmel School announced that it will be reviving its band program this coming school year with the hiring of a new music teacher, Julian Greening.
Greening comes to the school with an extensive background in music. Greening earned his Bachelor's of Music in Music Education from Bowling Green State University in Ohio and was awarded the university's prestigious Music Talent Award upon graduating. Afterwards, he went on to teach band and music at several schools throughout Japan. Greening has also performed around the world in dozens of musical productions, including Fiddler on the Roof, Singing in the Rain, and South Pacific. He also performed at Carnegie Hall under the direction of H. Robert Reynolds, the principal conductor of the wind ensemble for the University of Southern California., and even performed with the alt-punk band Weezer during their 2008 North American tour.
When asked about his lifelong commitment to music, Greening said, "I was born and raised in Japan, but since music a universal language, it helped connect with people when I studied in the US." He added, "Music helps us connect with people."
Greening looks forward to sharing his passion for music with Mount Carmel School's students. As he put it, "I am very excited about coming to Mount Carmel School to build an excellent music program and to help students enjoy music the same way that I do." As part of that effort, Julian aims to hold two concerts during the first year of the program, with a goal of eventually competing in the Tumon Bay Music Festival in Guam.
The revival of the school's band program is part of the school's Strategic Master Plan, which was endorsed by the school's Board of Directors this past May. The plan includes funding for a music teaching position and continued work on the Save the Stage Campaign. While the campaign aims to renovate the school's historic stage, the revival of the music program also harkens to the school's heritage. During the 1960s and 1970s, the school's band was often selected to play for key community events, including official visits from United Nations dignitaries and representatives from the US government during the Covenant negotiations.
For more information about Mount Carmel School's band program, or to enroll for the new school year, call 234-6184 or visit
www.mountcarmelsaipan.com
.