Bishop Ryan to Newly Married Couples: "We love you. We support you. We pray for you and with you."
On December 29th, the weekend of the Feast of the Holy Family, five couples walked down the aisle of Mt. Carmel Cathedral towards the altar where God awaited them. In a simple yet beautiful wedding celebration officiated by Bishop Ryan Jimenez, along with Father Jason Granado and Father Leo Neil Bullos, OAR, tears of joy were shed as the couples said their vows that placed Jesus as the center of their relationships.
The Diocese of Chalan Kanoa Group Wedding is an annual event and a part of the Pastoral Plan under the Commission on Marriage and Family Life. The church had been inviting couples that were yet to receive the sacrament since August. When Typhoon Yutu struck the islands in October, Father Jason, the coordinator of the commission, scheduled the marriage classes for November despite the lack of electricit. Sometimes, the classes were held in a dark social hall lit only by battery-operated lamps. Nonetheless, God had chosen the five couples to complete the classes despite the difficulties and the result was a celebration that was truly blessed.
Bishop Ryan shared an insight for the celebration during his homily in the wedding.
"We give thanks to God when a husband and a wife express the will to get married. Thank you for your determination and willingness to receive the sacrament of the Holy Matrimony. You must believe that your marriage was a part of God's plan. Nothing's a coincidence. Nothing is an accident in life. Thirteen couples got married last year, and though we have five this year, the [group wedding] celebration is not about the numbers. It's about, first, the gift that God gave to couples and, second, the gift you give to one another. We continue with this celebration in thanking God for the wonderful gift of this sacrament and we ask for the grace that as you receive this gift, you may nurture and continue to be good examples for others. Many couples worry about the expenses, but what matters the most is the wonderful meal that we usher from the Word of God to be continued to be nourished with the Body and Blood of Christ. Congratulations to you couples. We love you. We support you. We pray for you and with you."
Marriage is a vocation that requires a calling and discernment from God. It is the start of a new journey that joins a man and a woman into one, and "what God joins together, let no man put asunder".
Sister Nina Caccam, SJBP, was joyful throughout the mass. She stated, "The vocation to religious life is also part of the vocation to married life because we came from a married family. That's why whenever we hear the marriage vows being said, it is a nourishment of our vows for the religious since we came from families, and that is a domestic church."
There are many couples in the parishes that have been together for years without receiving Holy Matrimony and suffer without God's blessings. For the newlywed couples, it was a great moment that raised their spirits and brought an incomparable happiness.
Mr. Ferdinand Ramos and Mrs. Bonnie Ramos had been married in court for 21 years since December 29, 1997. They have three children and were celebrating their anniversary on the same day of the group wedding. Mrs. Ramos expressed how she and her husband had desired to get married.
"We decided it was finally time to be married in church. It's that the stars were aligned. When my husband and I saw the announcement on the North Star for the group wedding to be held on December 29, we decided to grab the opportunity since we had a love for that date. Then, everything started to come together. We had Yutu. We had power outages. Then we moved to San Roque, but the seminar was also in San Roque so it was only a few blocks away from our new home. It really was the time. Everything came into place and God provided. Marriage in court is legal, but it's different because the seminar will give you a new understanding of what true marriage is. I encourage those who haven't married in the church to join in the upcoming Group Wedding. This is a great program from and for the church."
Mr. and Mrs. Ramos were not the only ones with something else that signified the specialty of the 29th.
For Mr. Juan Atalig and Mrs. Veronica Atalig, Juan was celebrating his birthday. The couple had been together for 17 years and have three children.
"We went to mass one day in October and while I was reading the North Star, I saw the announcement for the group wedding set for today, so I told my wife, 'Hey, on December 29th, let's get married since it's my birthday.' We'd been together for so long and had also been desiring to get married for a long time now. We decided we wanted to make it permanent. For those that are living together and unmarried, you should plan to get married. You should make it official and have the Lord's blessing."
The five handsome grooms and their five beautiful brides who received the Sacrament of Holy Matrimony were:
Mr. Andrew Omar Reyes and Mrs. Stacey Lynn Rios Deleon Guerrero Reyes (San Vicente Parish)
Mr. Raymond K. Sablan and Mrs. Melva Marie Duenas Sablan (San Vicente Parish)
Mr. Ferdinand Serrada Ramos and Mrs. Bonnie Riza Oledan Ramos (San Roque Parish)
Mr. Juan Edward K. Atalig and Mrs. Veronica Cepeda Camacho Atalig (Santa Soledad Parish)
Mr. Vincent Joseph Norita Sablan and Mrs. Jonney Edward Sablan (Santa Remedios Parish)
Being married is not a walk in the park. There will be trials and hardships that for some, might feel like the end of it, but it is through these that our relationship with one another and with God will be strengthened. Those who have the courage to continue even when they want to give up will feel the blessings and become witnesses of God's unfailing love.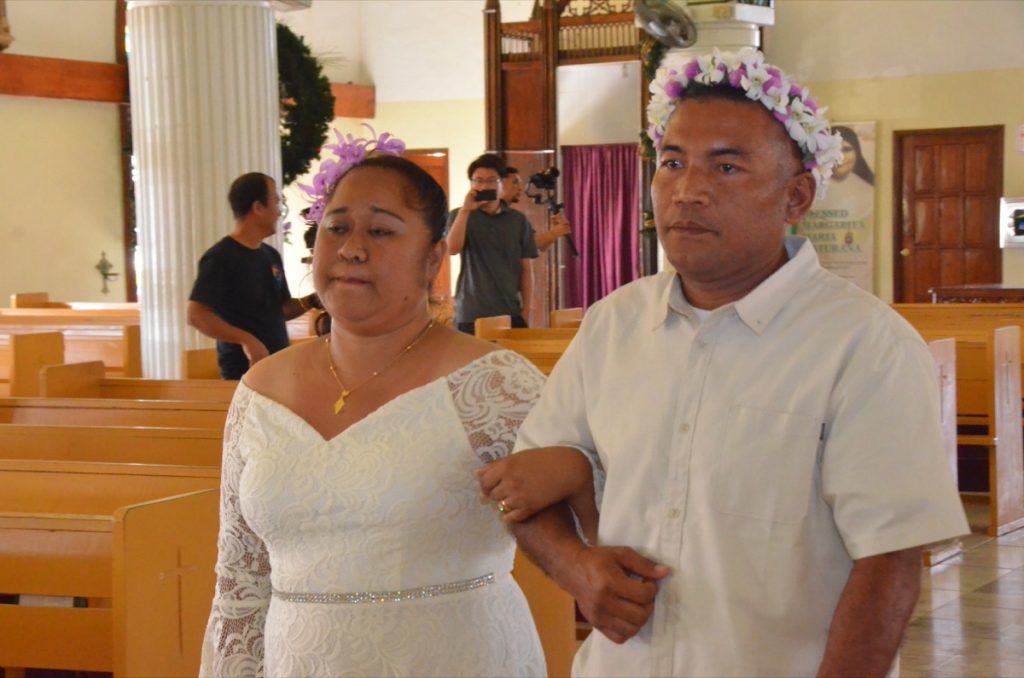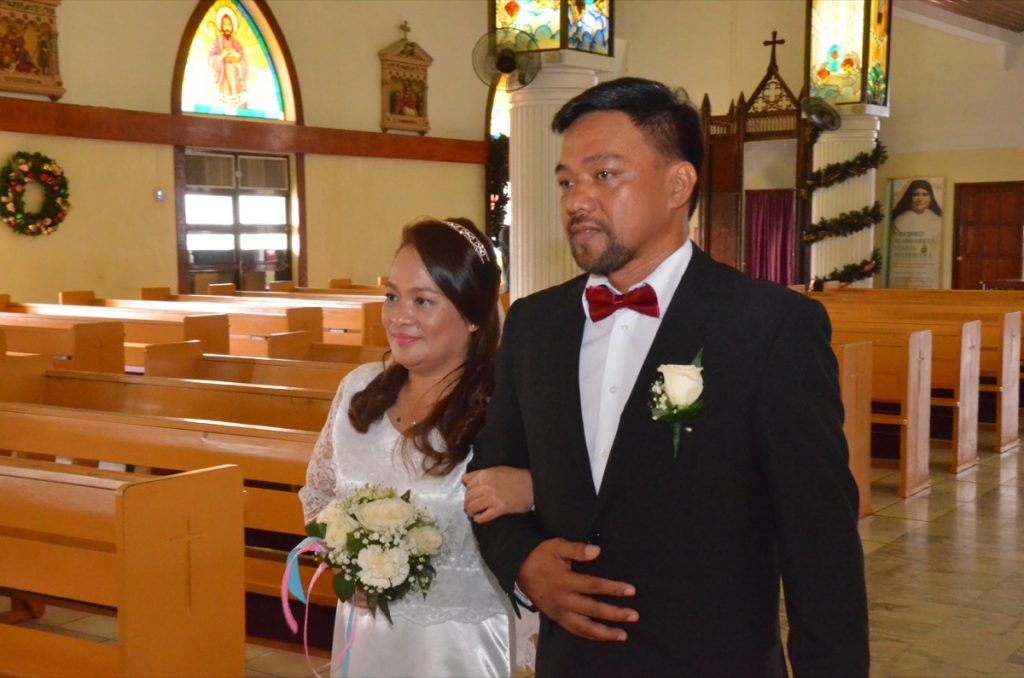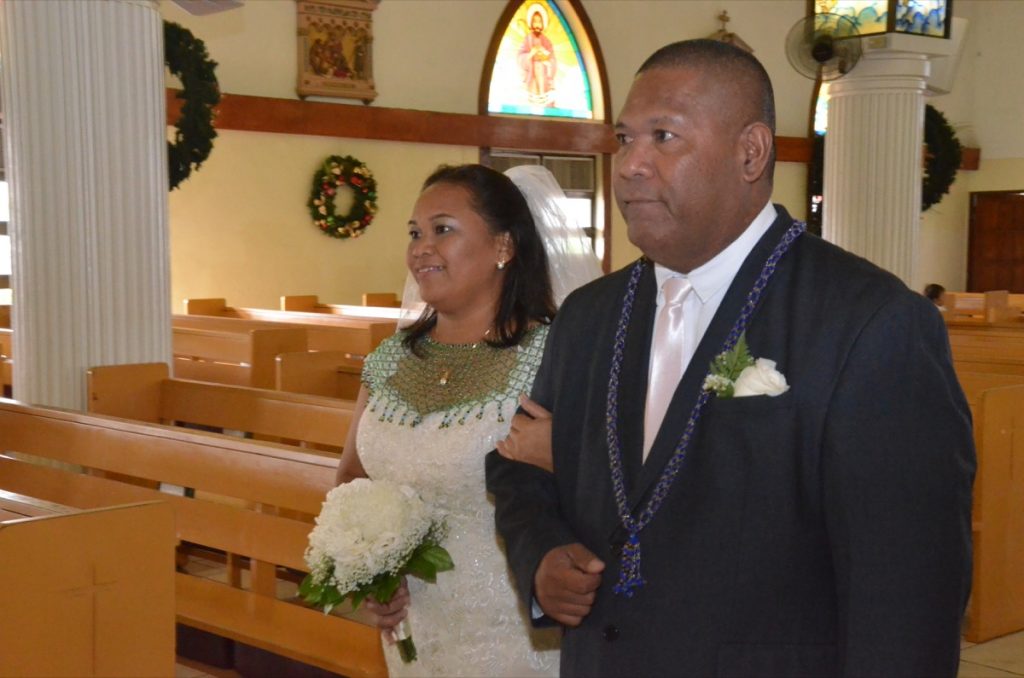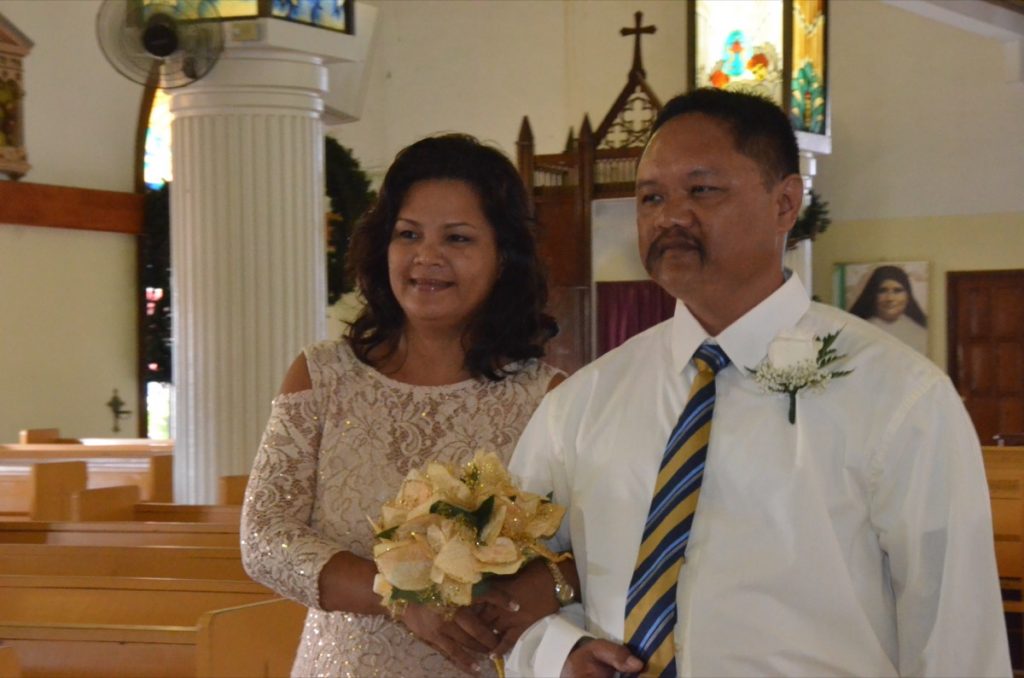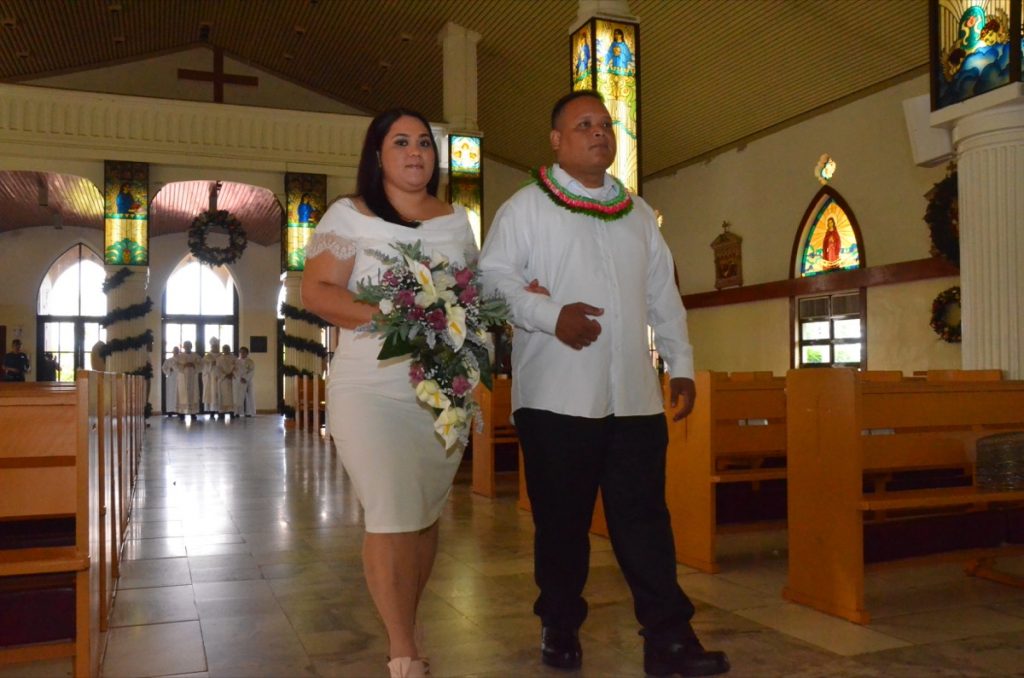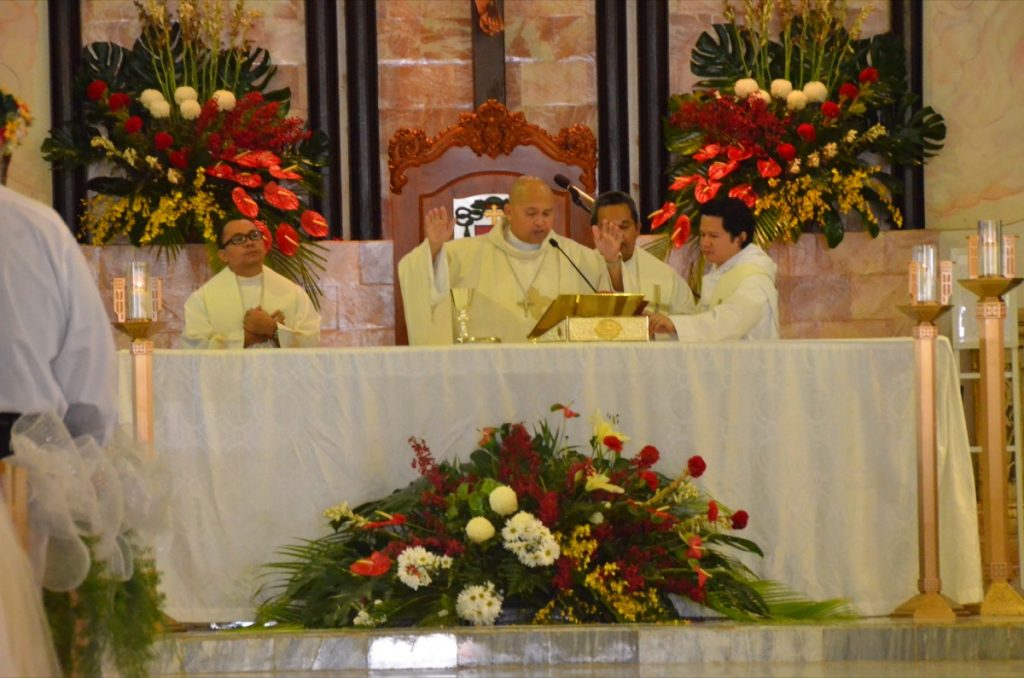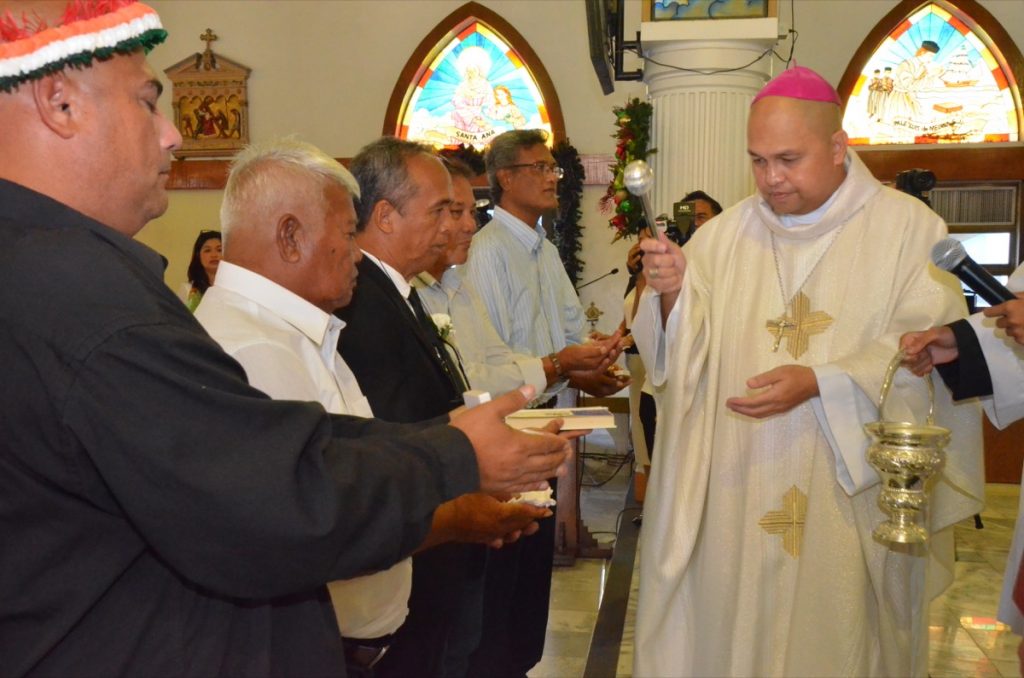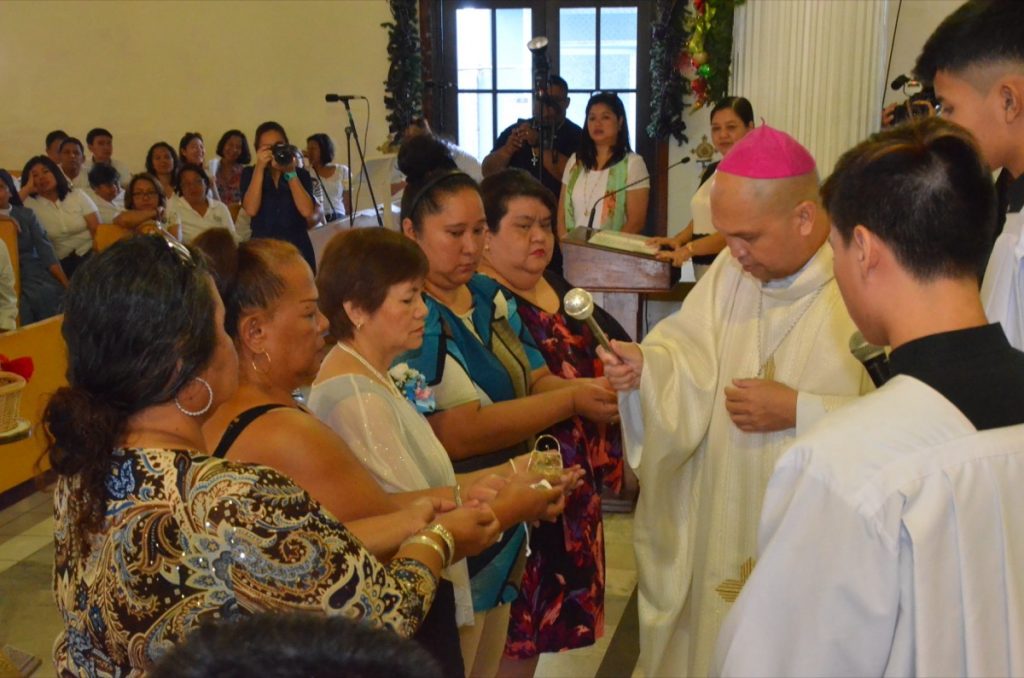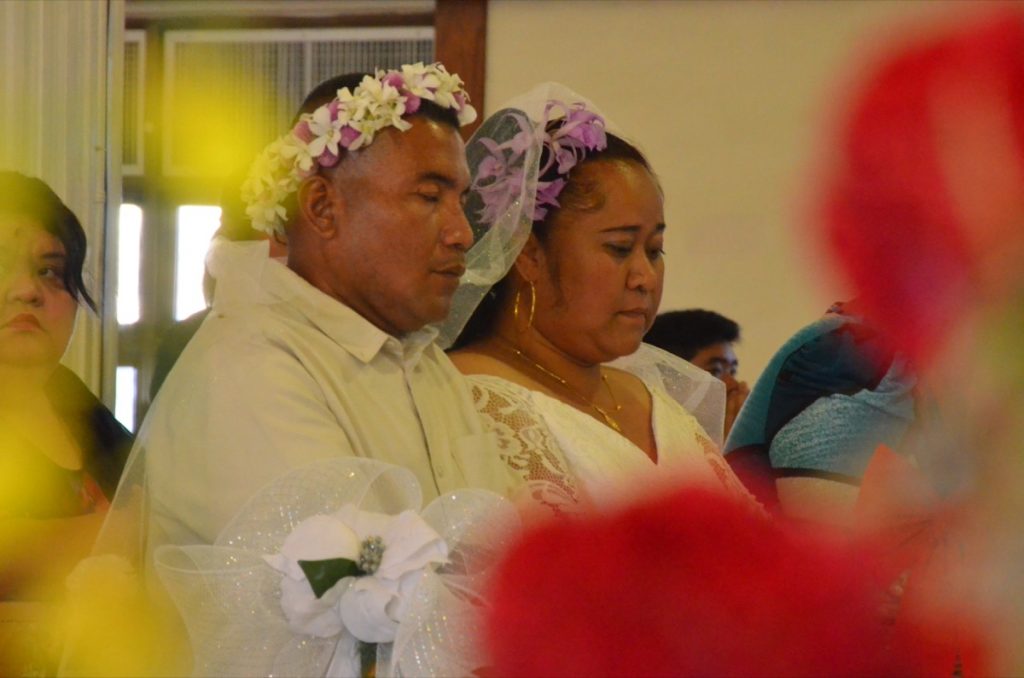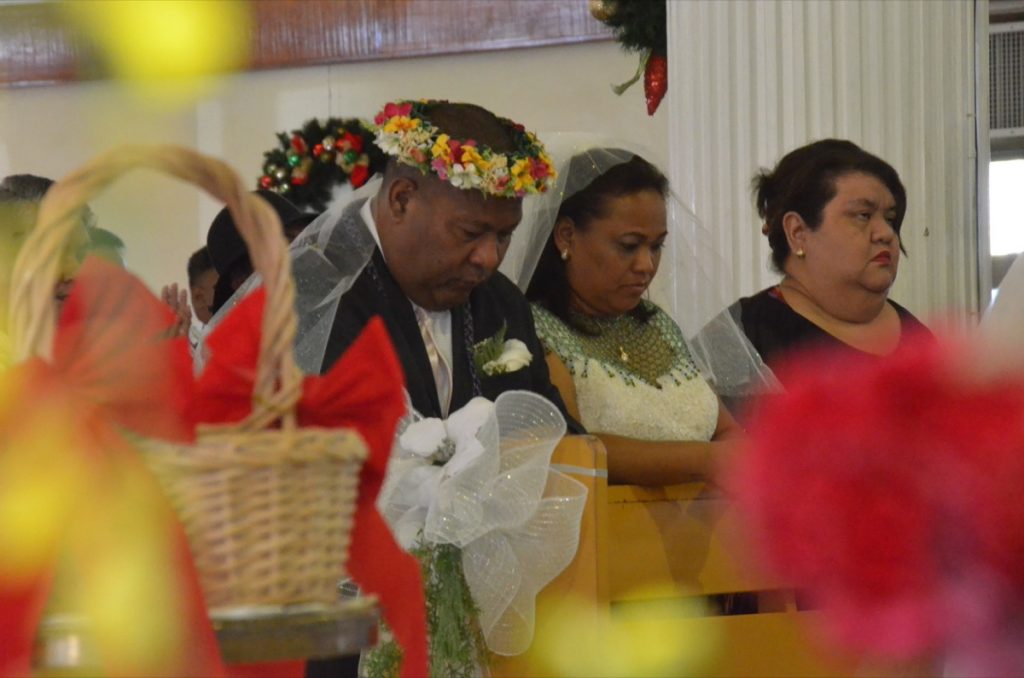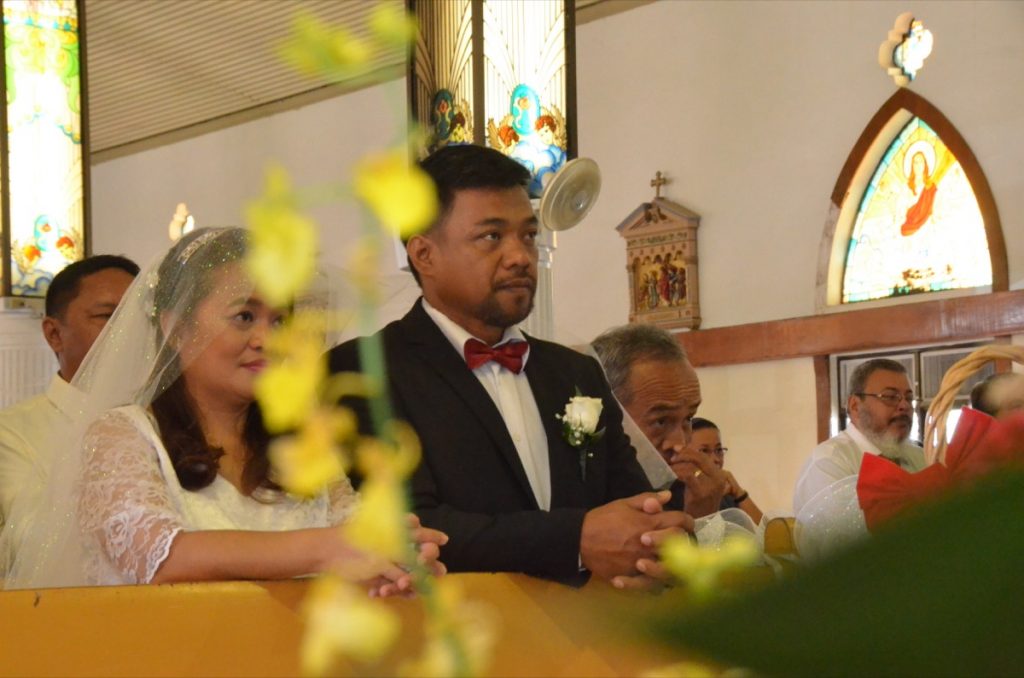 For more photos, check the diocese facebook page here.